Word-of-mouth marketing has long been one of the most powerful channels for developing new business. In fact, 92% of consumers believe suggestions from friends and family more than advertising, according to a recent Neilsen report. That doesn't mean that advertising doesn't work. It just means that as humans, we trust those closest to us when making big decisions.
Land Tech Group of Virginia owner, Wayne Melancon, can certainly attest to the power of word-of-mouth marketing after winning his first Belgard Hardscape Hero award this month. Speaking on behalf of Wayne, Rebecca Mahanes, Operations Supervisor explains,
"Shortly after the homeowner purchased the house, they realized they wanted to increase the usage of their backyard space by adding a pool. So, they asked a neighbor for a recommendation on a pool installer. We worked with their neighbor a few years prior and had a great experience. They recommended us for the project and the rest is history."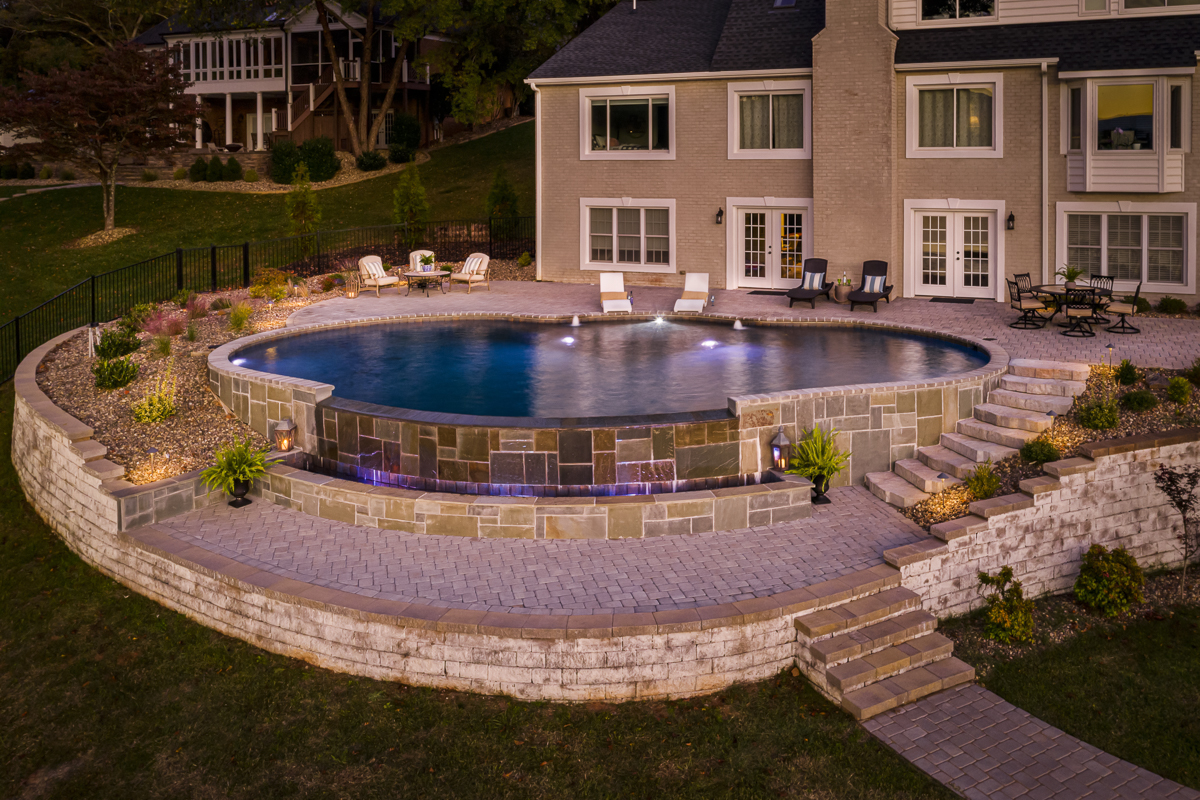 Just over 20 years ago, while Melancon was still in college, he started Land Tech Group of Virginia. While most students were focusing on where they can find the next party, he was searching for his next project. Melancon learned the trade from his uncle who was a local pool builder. He noticed that at the time, there were very few companies, if any, that installed both pools and hardscapes. To this day, it's still rare to find a company that installs both and that's a major competitive advantage for Land Tech Group of Virginia.
"We are the only company in our area that keeps everything in-house. From design and planning to pool and paver installation, we do it all. This makes it easier on homeowners because they only have to deal with one crew coming and going from the property and there's one point of accountability for the entire project."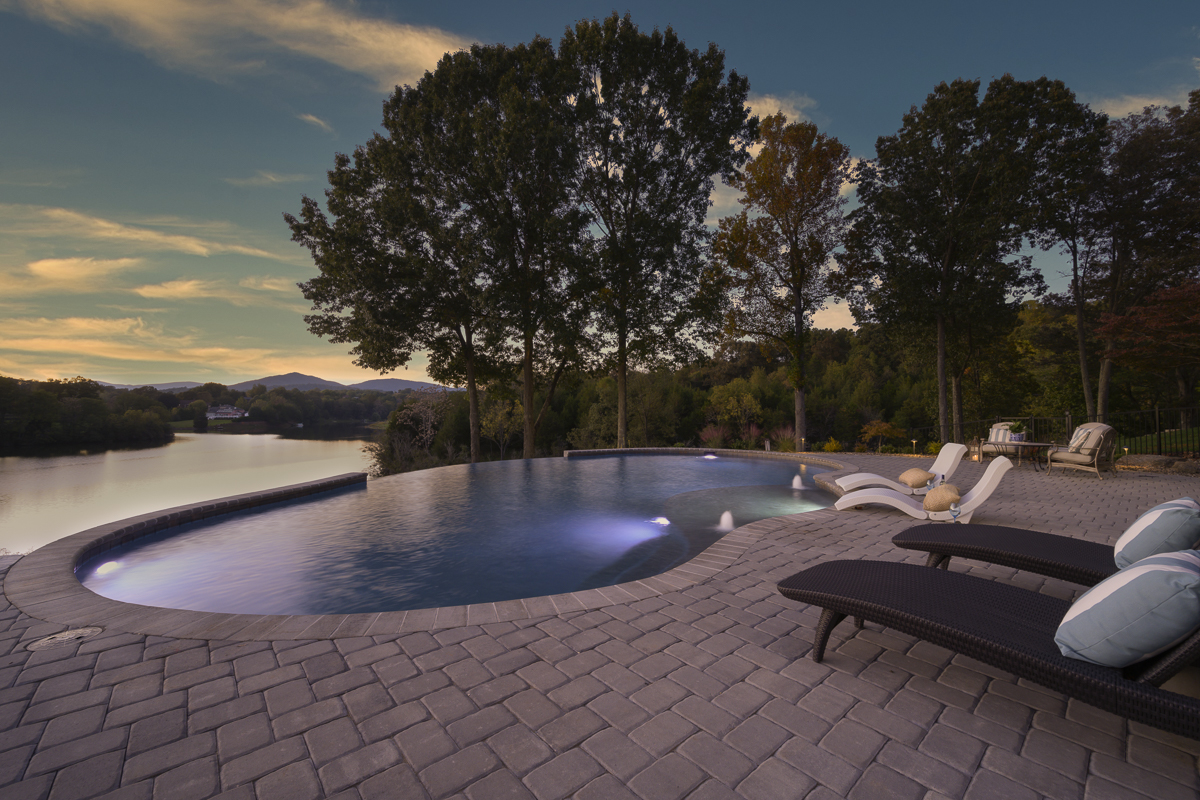 Like many Hardscape Hero-winning projects, the yard presented many challenges for the team to overcome. The entire backyard was on a slope and needed preparation and stabilization before any work could be done. The slope and narrow side access also created difficulties establishing a construction entrance to the yard.
Mahanes expands, "The backyard also had an existing hardscape installation that was basically falling apart. Based on its condition, it couldn't have been installed correctly. Once the yard was stabilized and the old patio was removed, we installed a beautiful pool with a vanishing edge that overlooks a lake behind the house. We wanted to be sure it was perfectly aligned. The team even made sure the vanishing edge could be enjoyed from the back kitchen windows that overlook the yard."
Although they're known for beautifully functional designs and installation, Mahanes also credits clear and honest communication with homeowners as a part of their success in generating word-of-mouth referrals.
"We work with our clients to help establish realistic budget expectations. It's very easy to get excited and carried away with all of the elements that are possible in an outdoor living design. And it's also not always easy to change elements once they have been installed. Having great communication from the start ensures that everyone is on the same page and establishes trust which is very important to us."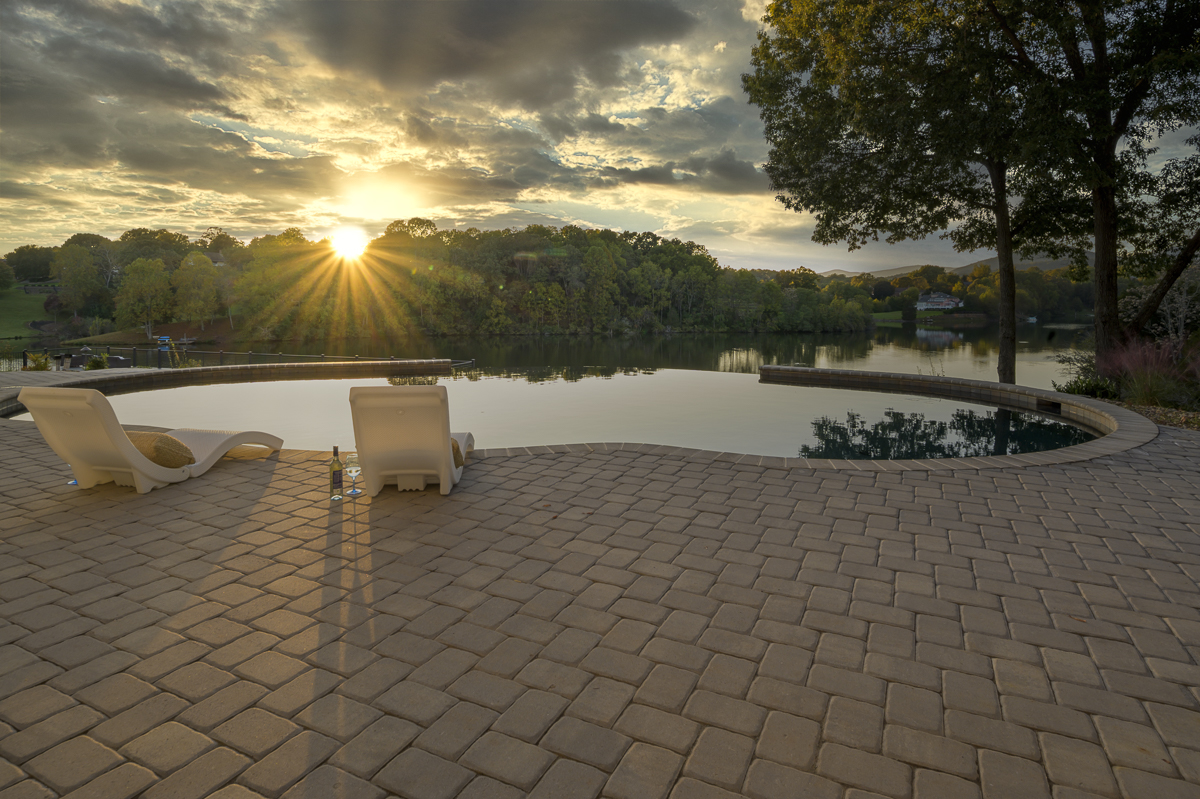 Want to be a Belgard HARDSCAPE HERO? Submit your project here.
Follow us on Facebook and Instagram to see more beautiful photos from HARDSCAPE HERO winners.
The following Belgard products were used in this project:
6×6 & 6×9 Belgard Cambridge Cobble 'cobble blend'