Listening, a skill in high demand in today's society, is a secret to success for our latest Belgard Hardscape Hero award winner.
Donald Sherbeyn of Sherbeyn's Lawn and Landscape is an accomplished designer and installer in the Mid-Atlantic region and the April recipient of Belgard's Hardscape Hero award. He is also celebrated in elite company as the 2016 Hardscape Hero of the Year winner.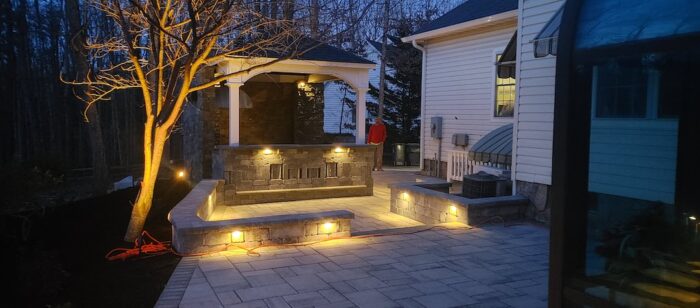 When asked about his secret to his success, Sherbeyn will tell you it's quite simple, "Everybody's got a dream. You just have to listen and figure out how to put it together for them. They usually have a lot of things in mind. When you initially ask a homeowner what they're looking for, most say "I really don't know." So, we always start with a selection of targeted questions to help them start to piece their vision together. As a designer, my most important  job is to ask questions and listen."
Even the most thoughtful and intuitive listener knows that hearing a client's vision and bringing it to life are two very different things. If working the hardscape industry for over a decade has taught Sherbeyn anything, it's that there is no cookie-cutter solution for any project. Each yard is unique in topography, space, and ultimately, surprises. This award-winning project in particular was a "back to the drawing board" surprise.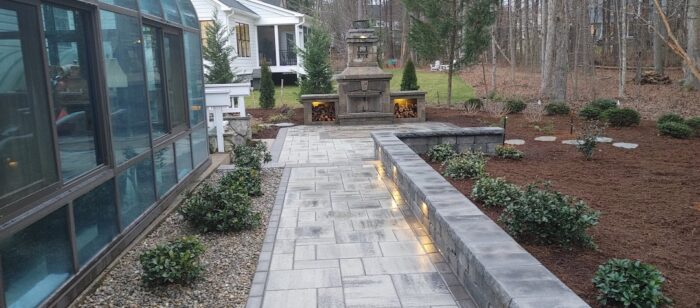 "So originally, we started off with a pool. We walked way out into the backwoods of their two-acre lot, pulled their plot plan, and began discussing options. We noticed that the resource protection was eight feet off the corner of the back of their house. It was stressful because there was a time during this project we weren't sure if we were going to be able to get anything in for him due to the resource protection limitations. I had to go back to the drawing board and flip the design completely around." 
There are always tweaks and changes in a project and Sherbeyn and his team take a lot of pride in making sure their clients are well-informed and happy throughout development. The team takes great care in understanding expectations and learning how to build the spaces to accommodate their lifestyle, inside and out.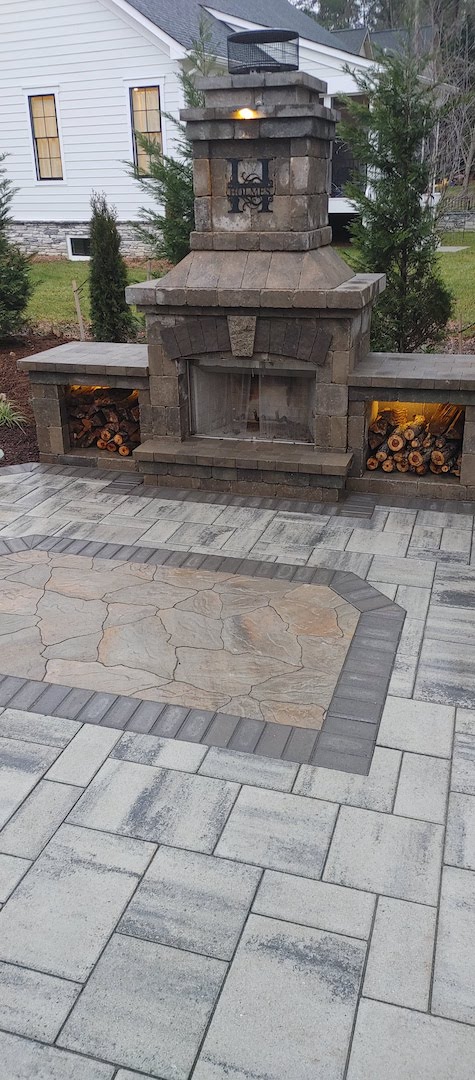 "The husband is a Marine and very much an outdoors person. Like many kids these days, his son is very into electronics. It's been difficult at times getting him to come out and enjoy the outdoors with his father. So, after a few great conversations, it was clear that he was really hoping to create a space that would help draw his son outdoors. The parents both have elderly parents as well and developing a place where everyone in the family could come together was very important."
One of the most popular features that families across the country are integrating into their hardscape design is an outdoor kitchen. It's the perfect functional element in bringing people of all ages together. And to say outdoor kitchens have come a long way is a massive understatement. From simple small grill integrations to giant pizza ovens, there's an outdoor kitchen design for any size project.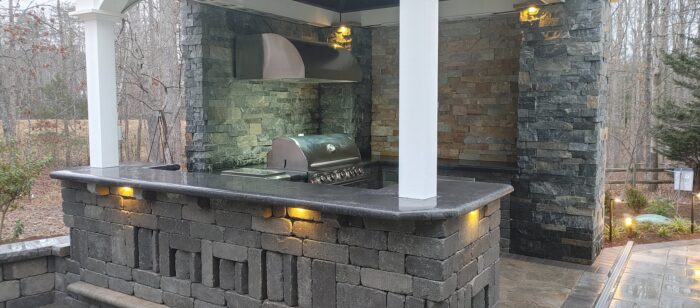 "We incorporated an over-sized grill complete with hood and side burner so their son can help cook. We also mounted a large television, so they could watch games as they cook and eat. There's a big wall on the backside of this particular kitchen that utilizes essentially the entire width of the backyard because it was such a narrow space. They are right next to neighbors, so the kitchen wall acts as a privacy screen. At the other end of the space, we built a beautiful fireplace that opens up to beautiful woodlands and a nice grassy area."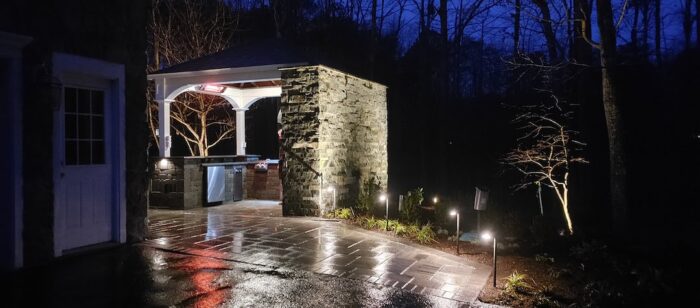 If Sherbeyn was forced to pick a favorite feature of this winning project, he would point out the detailed stonework on the kitchen wall and how the textures pop through the lighting in the evening. Over the years, the team at Sherbeyn's Lawn and Landscape has taken great pride in making sure that every project has a "wow" factor such as this. This commitment to his craft is what sets Donald Sherbeyn and his team apart in an industry that is experiencing extreme growth. 
"This industry is exploding. The pandemic really showed people that having an outdoor place at home to kind of get away is priceless – having the opportunity to step out into your own backyard and disappear into a space that was custom designed for you. I watch our customers change the way they live. They find that calm. Hardscapes are going to continue to boom and who knows what the next trend will be."
As more and more homeowners learn about all the outdoor living possibilities that Belgard hardscape products can offer, professional designers and installers like Donald Sherbeyn will have more opportunities to create innovative spaces worthy of a Hardscape Hero award. And rest assured, we will be listening to Sherbeyn in developing new products he needs to make a homeowner's dream come true.
This winning project was completed using the following products:
If you would like to be considered for a HARDSCAPE HERO award, submit your project here.
Follow us on Facebook and Instagram to see more beautiful photos from HARDSCAPE HERO winners.