An Eagle Bay fire pit or fireplace makes the perfect centerpiece for any thriving outdoor living space, extending and enhancing your outdoor entertaining season. We currently offer dozens of variations on our fire features. This helpful guide will make understanding the differences between our available options easier.
Fire Pits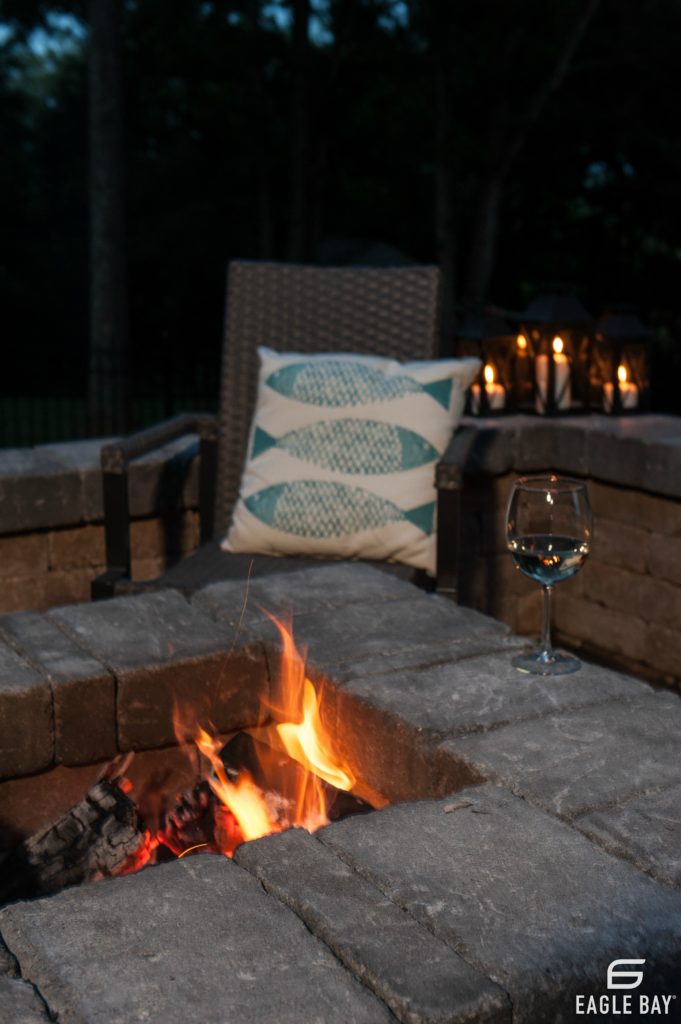 Eagle Bay fire pits come in three basic styles: Aspen Stone, Dublin, and Highland Stone.  The Aspen Stone fire pit, which is the smallest, is available in two colors, Chesapeake and James River. Dublin, which comes in both round and square options, is available in two colors: James River and Chesapeake. The Highland Stone fire pit, which is the largest, is available in two colors, James River and Jefferson.
All three fire pits come with optional caps available in matching colors. Caps are the perfect finishing touch, and they give you a great place to put your hot chocolate.
Fireplaces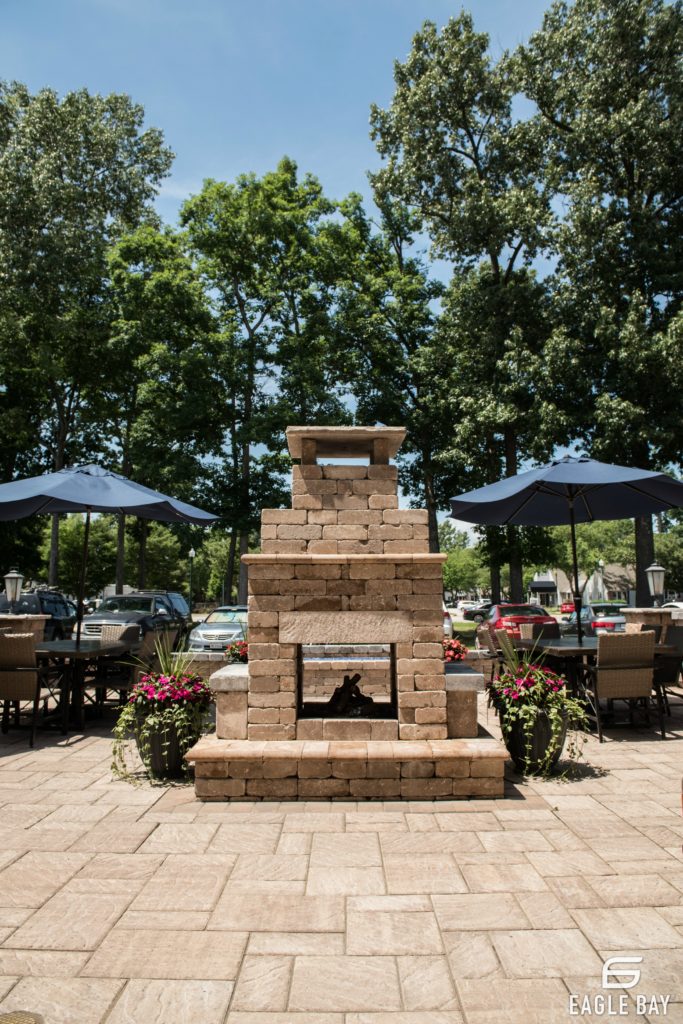 A fireplace is a great way to create a statement on your patio. Eagle Bay fireplaces currently come in a few variations. The Dublin Traditional fireplace is the largest of our fireplaces. The chimney pulls smoke up and away from the patio, leaving you with a beautiful roaring fire. Our Dublin See-Through fireplace is slightly smaller than the Dublin Traditional, but its unique design makes it a perfect centerpiece for your patio since the see-through fire basin radiates heat front and back. Both of these fireplaces are available in James River and Chesapeake colors.
We also offer two standard outdoor fireplaces available in three hearth/width options, and they can be built with arched or flat fronts. These options are also designed to work with man-made or sliced-stone veneers.
Cleaning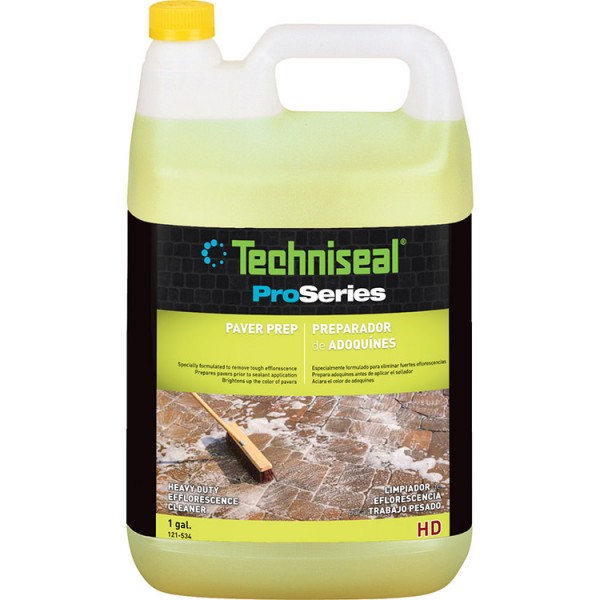 Our fire features are designed to withstand the rigors of the elements; however, a simple pre-season cleaning will ensure that they burn flawlessly all year long. You can use the same Techniseal products to clean your pavers and your fireplace, which means you can clean your fire feature with ease.
In addition to cleaning your fire feature, it's a good idea to periodically remove any built-up debris from the fire basin. This allows your fires to breathe and prevents your fire feature from building up a layer of gunk. Use a plastic shovel or push broom to clear out the fire basin before your first fire, and you'll be set for the winter.
Safety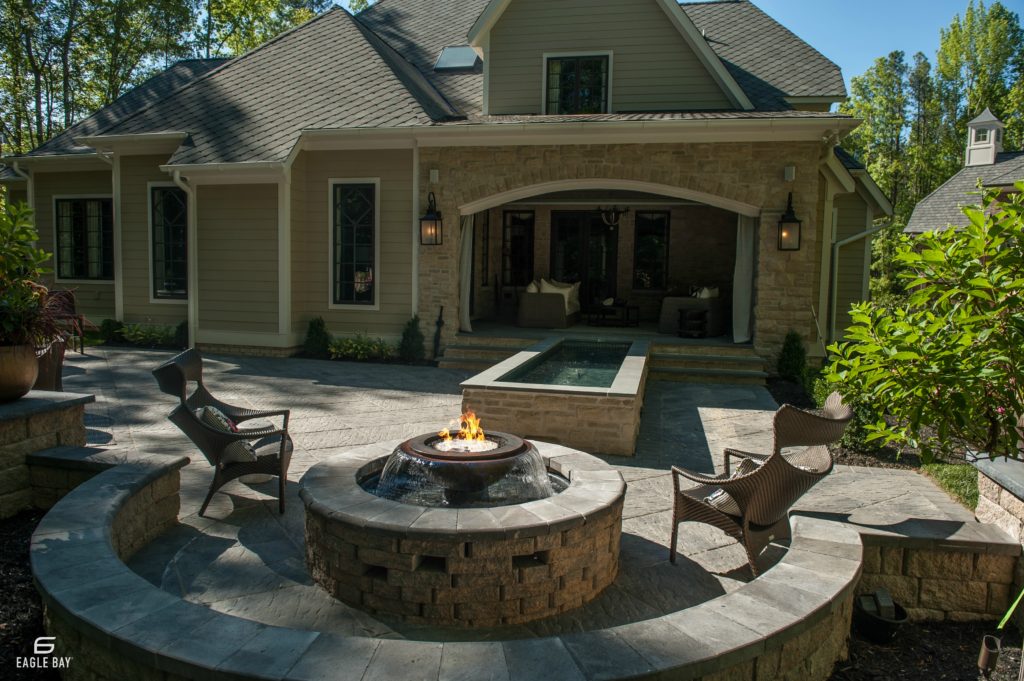 Safety is always a priority when dealing with fire. A little common sense will go a long way when using an Eagle Bay fire feature.
The sides of the fireplaces can get hot when fires are going. Be careful about leaning up against or touching the sides of the fireplace while a fire is burning or soon after the fire is out.
Keep a hose or another water source handy.
Don't use accelerants like gasoline when starting your fire. You can build a good fire with just some paper and dry wood. Take your time and brush up on your Boy Scout skills instead of using a risky fuel such as gasoline or another flammable chemical.
You can add a fire feature to your outdoor living space anytime. Even if you've had your patio for years, adding a fire feature is a fun way to shake things up and extend your outdoor entertaining season. Just don't forget to pick up some marshmallows.